Located above De Brouckère station, the iconic building constructed in the 70s and known, in particular, for its cross shape is currently undergoing an ambitious renovation programme. The aim is to create a new sustainable Brussels destination for great work, life and entertainment. To achieve this, the architectural project follows the iconic lines of the original building while optimising its intrinsic qualities to accommodate offices, housing, shops and a hotel under one roof.
A first-rate location in the heart of Brussels
The first advantage for future users of Oxy is its ultra-central location in one of Brussels's most vibrantdistricts, at the intersection of Rue Neuve and above the "The Mint" shopping centre.
You can get everywhere on foot (or by bike!). Brussels Central, North or South stations are a few minutes' walk away and you can access numerous amenities within a 500-metre radius of the building complex: gyms, shops, nurseries, restaurants, hotels, schools, museums, concert halls, etc. Also note that the project provides new access to the De Brouckère metro station on the corner of Place de la Monnaie, on the Rue de l'Évêque side.
Oxy thus meets the criterion for urban centrality, which is now essential for attracting and retaining the best talent.
An exceptional project by major names in global architecture
The renovation of the Centre Monnaie has been entrusted to the renowned Norwegian architecture firm Snøhetta, which will work in partnership with local firms (Binst Architects and DDS & ADE).
For more than three decades, Snøhetta has been designing visionary projects that combine architecture, landscape, graphic design, digital design and art. One of the Nordic firm's most notable achievements was the pedestrianisation of Times Square and the pavilion of the September 11 commemorative museum at the World Trade Centre in New York, the Oslo Opera House or, more recently, the new Le Monde Group headquarters in Paris.
For Oxy, Snøhetta intends to bring the existing building into the 21st century while retaining its unique silhouette, anchored in the collective urban memory of Brussels.
An energy-efficient and highly sustainable real estate complex
Oxy strives for environmental performance at every stage of its life cycle. It therefore has ambitious objectives to achieve carbon neutrality which materialise in the application of the major principles of flexibility, reversibility and recyclability.
Oxy will produce its own energy (up to 40% of its needs) as a result of photovoltaic panels positioned on the roof and façade. In addition, the complex is equipped with active systems for recycling and heat recovery from grey water. Likewise, heat pumps will be combined with underground thermal energy storage that will allow the building to produce up to 30% less heat and cold.
At the same time, carbon neutrality targets will also incorporate GHG emission offsetting principles by supporting social and environmental impact projects.
Finally, in terms of certifications, Oxy is striving for excellence with BREEAM Outstanding level labelling.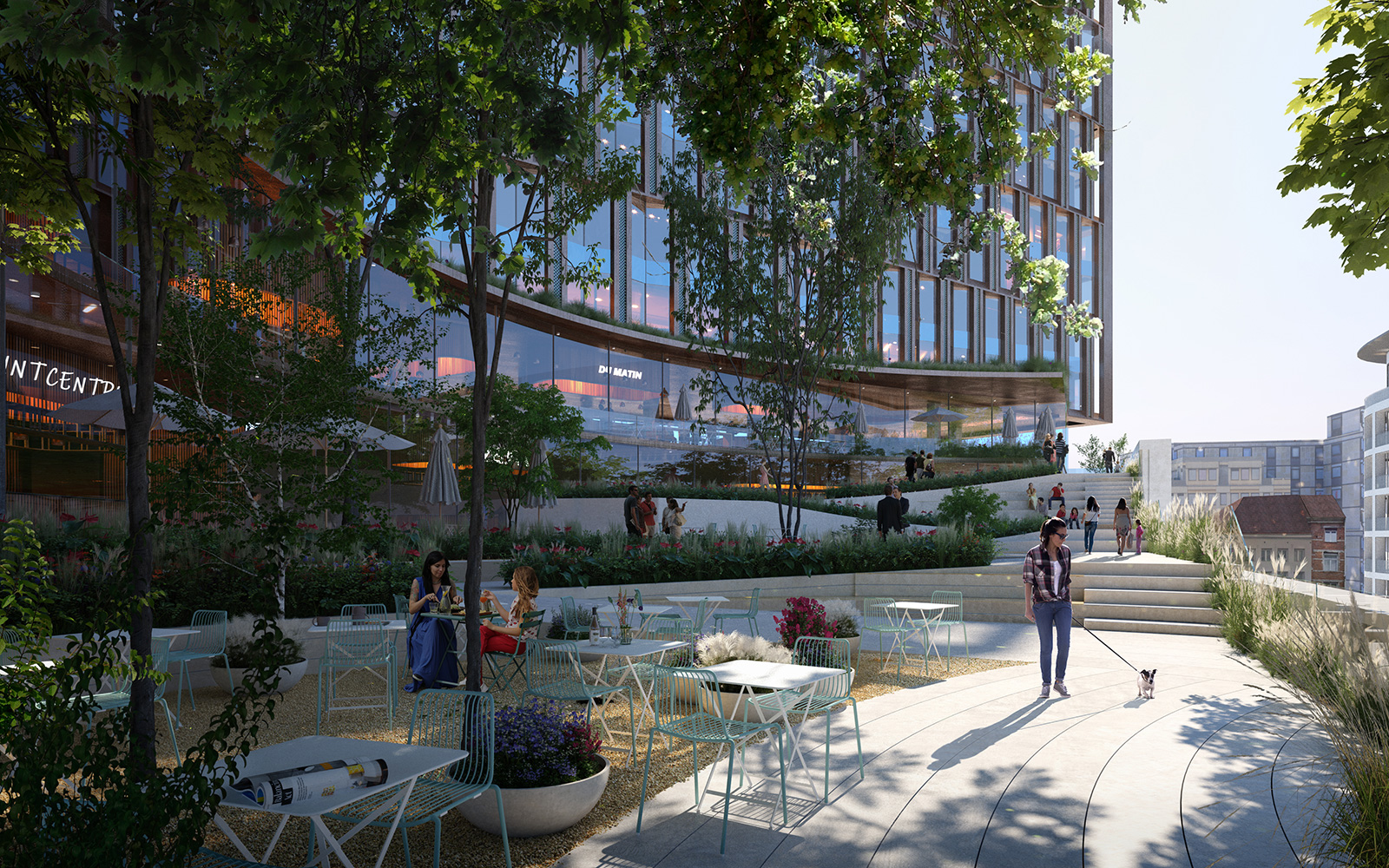 A multifunctional hub, open to the city and conducive to the well-being of all users
In addition to BREEAM certification, Oxy is also aiming for the WELL Platinum level label, which recognises equipment related to the health, comfort and well-being of a building's occupants. Oxy will therefore offer its future tenants offices bathed in natural light, ensuring air quality, thermal and acoustic comfort, as well as flexible spaces designed to promote informal interaction and serendipity. This last point is also central to the Oxy project, which is designing a new multi-use destination combining residential, commercial and leisure functions. This openness to the city ensures Oxy's economic viability and harmonious urban integration in the heart of Brussels.
The renovation work also extends the public space by incorporating an auditorium, coworking spaces, cafés, shops, as well as a rooftop garden, restaurant and hotel with a breathtaking view of the Royal Theatre La Monnaie. The building base will also be redesigned to provide free-flowing paths.
Oxy is establishing itself as a new Brussels destination, a place for living, leisure and work that is vibrant 24/7.
Figures
By 2025, Oxy will offer...
Almost 44,000 m² of new office space,

Bars and restaurants

A hotel with 250 rooms,

An apartment hotel with 86 units,

Housing

6000 m2 landscaped areas