By the second half of 2023, the corner of 40 Rue des Colonies and Rue de la Chancellerie will change appearance and be the location of a brand new office building.
Named Chancelier and developed by Codic in collaboration with the firm Archi 2000, this premium real estate operation is already being marketed by BNP Paribas Real Estate Belgium.
Head to the heart of Brussels for a guided visit of this iconic tertiary project
A masterful renovation and workspaces adapted to new tertiary uses
Led by Archi 2000's architectural teams, the Chancelier real estate operation includes the renovation of two office buildings that have undergone multiple transformations over almost a century. The challenge is therefore to reunite these two entities in order to rebuild a harmonious whole, both in terms of architectural quality and urban integration.
The soft lines of Chancelier's contemporary facade create a remarkable dialogue with the Gothic style of St Michael and St Gudula Cathedral. On the ground floor, there are commercial units that ensure this new building integrates into the life of the neighbourhood.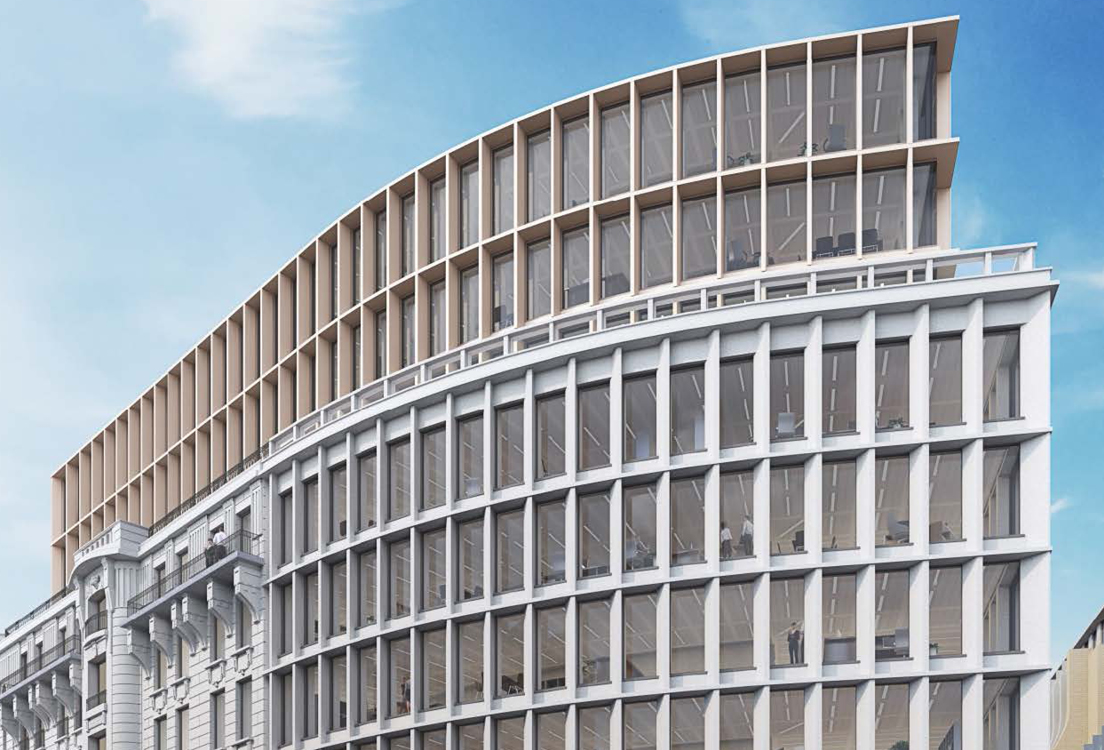 Inside, the reception hall offers tenant companies an entrance built from refined materials, with wonderful spaces finished with soft nuances and contemporary furniture. Your gaze is then drawn towards a magnificent indoor garden accessible to the building's users for an informal break in a protected environment. This is also one of the highlights of the Chancelier operation, which gives pride of place to vegetation with many accessible outdoor spaces such as balconies, a terrace and a spectacular rooftop measuring over 200 m2. This is a real bonus for companies looking for offices to rent in Brussels, as the recent health crisis has strengthened the importance and need for easier access to private green spaces.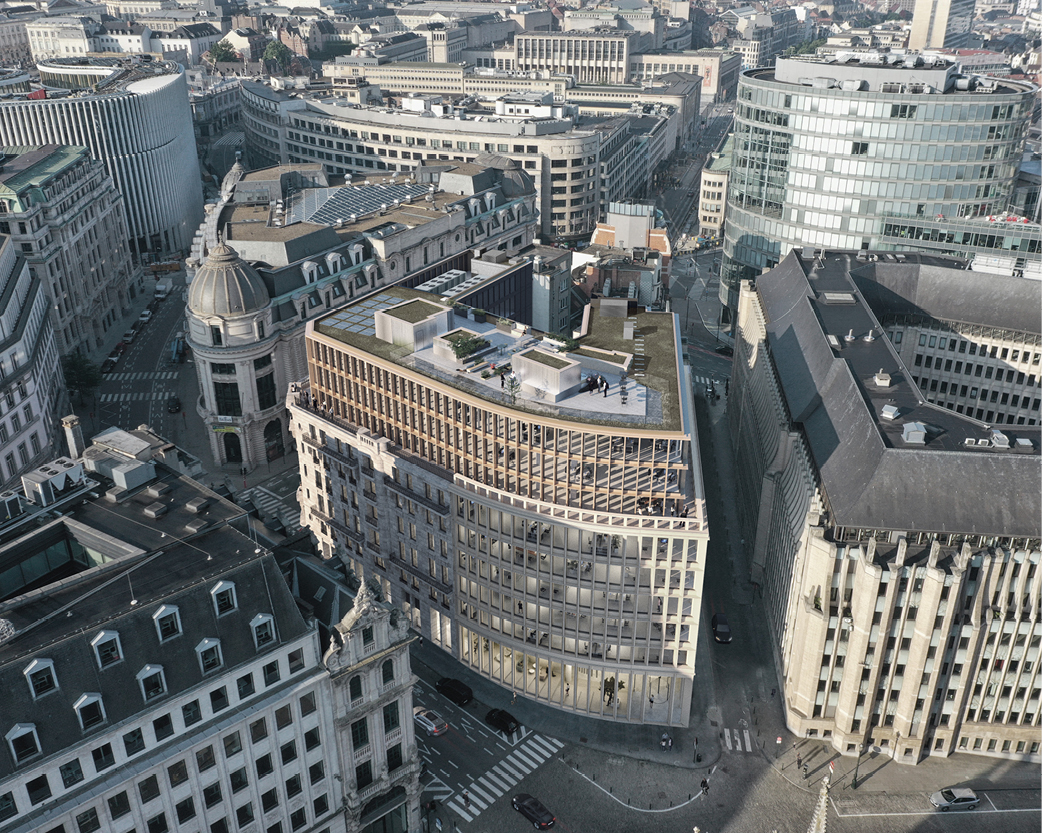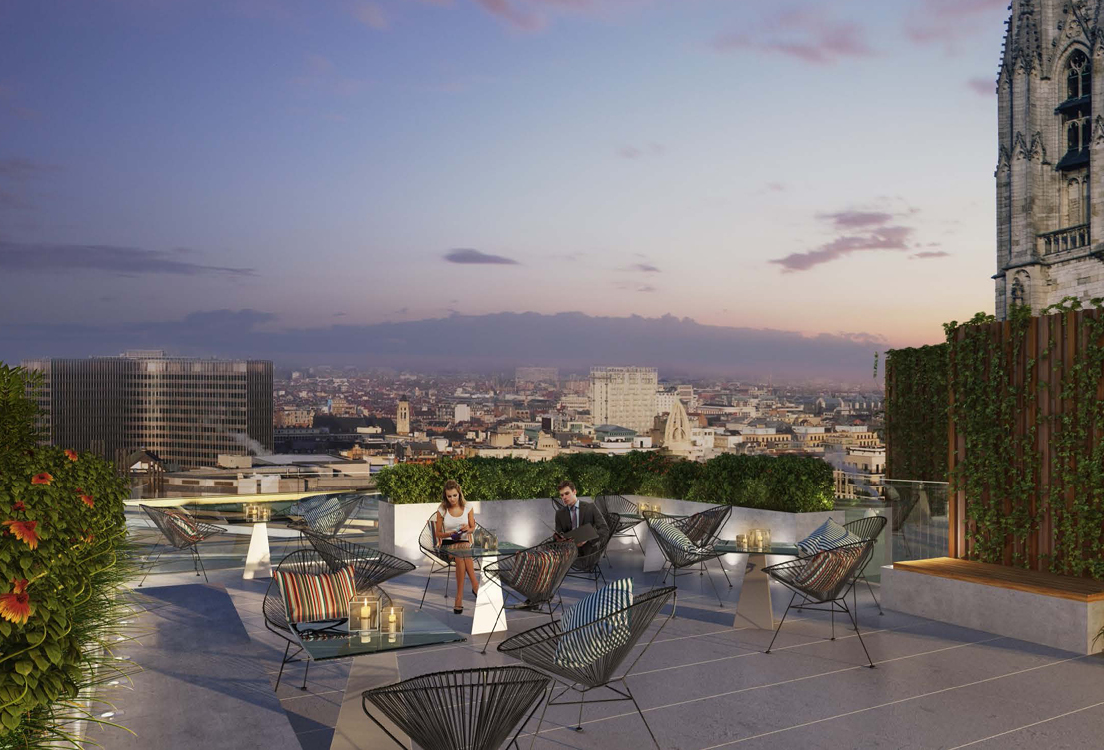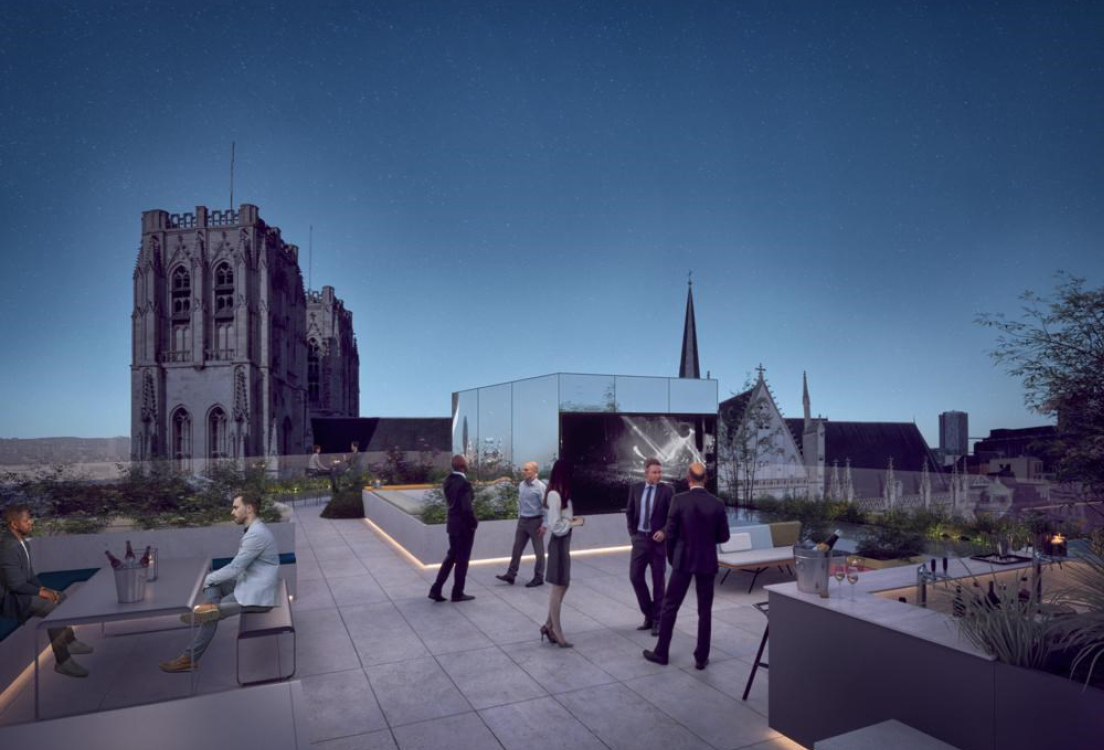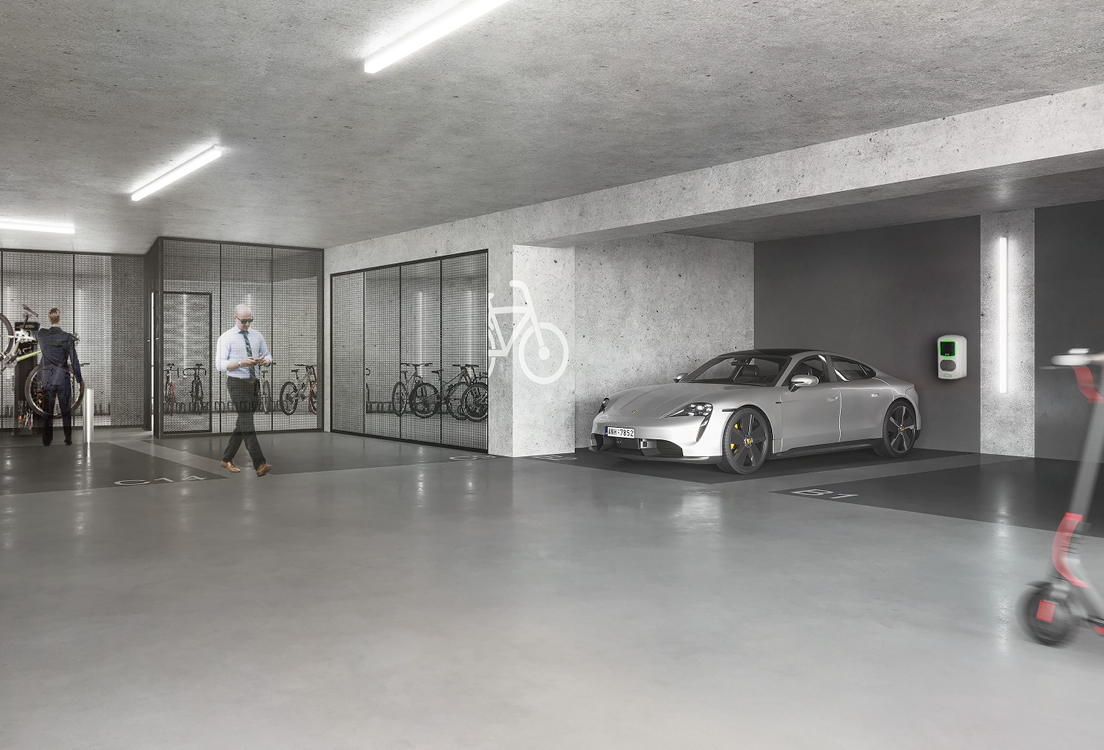 On the upper floors, the office spaces are designed as places for conversation and meetings in order to adapt to new methods of work organisation. Users will therefore benefit from flexible and modular spaces offering multiple layout possibilities.
Chancelier also offers a range of services dedicated to the well-being and comfort of user companies, with, as a focal point, a culinary restaurant, a cafeteria, a coworking space, a private lounge (which houses a conciergerie and after-work bar, etc.), underground car parks and charging stations for electric vehicles.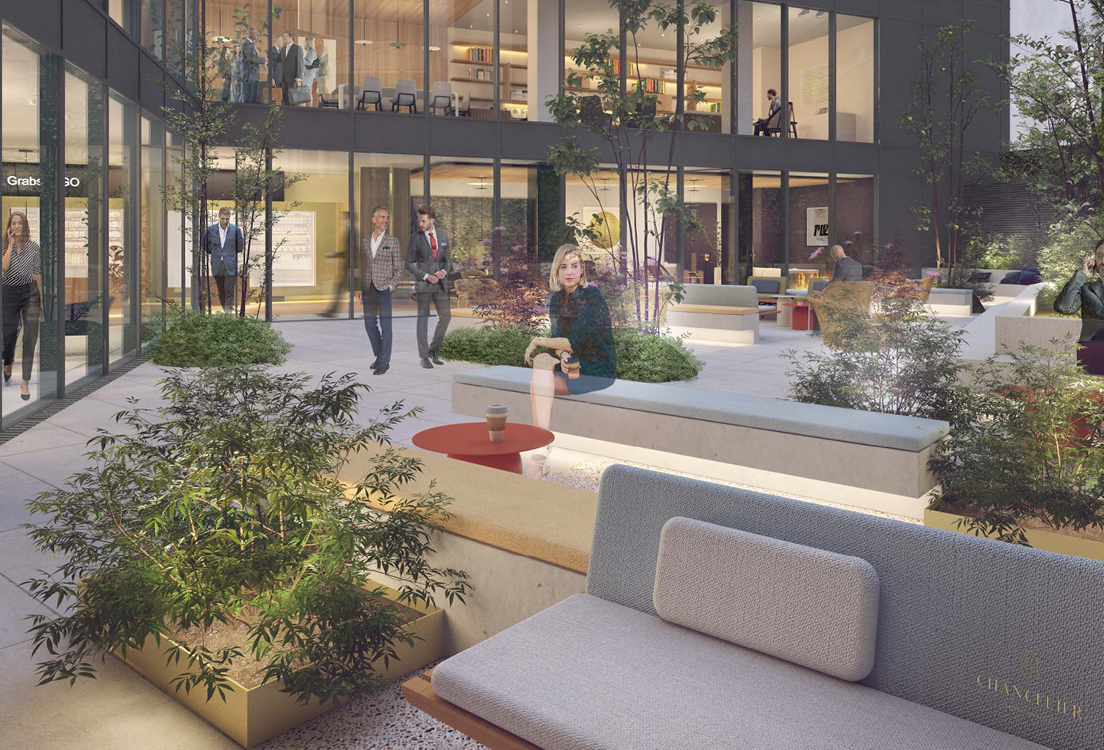 Last but not least, Chancelier meets very high environmental and sustainability requirements. The project is set apart by its BREEAM Excellent, AirRaited (measuring indoor air quality) and WireScored (a system for assessing the connectivity of office buildings) certifications. Chancelier is also one of the first Brussels office complexes to obtain the WELL label, a scheme that introduces new standards in terms of the well-being of employees in companies.
>>> Read more: "Labels and certifications in real estate: How to find your way around?" <<<
New offices strategically located in Brussels city centre
The impact of the working environment on a company's performance is now widely known, thanks to numerous studies carried out on the subject. Renting new offices within the Chancelier tertiary complex therefore means taking advantage of a first-rate location and offering your employees all the benefits of its fantastic central situation.
The real estate project is located at the corner of Rue des Paroissiens, Place Sainte Gudule, Rue de la Chancellerie and Rue des Colonies, that is to say at the heart of one of the most lively and sought-after districts in the capital. So you can take advantage of the immediate proximity of hotels, shops, museums and restaurants, and walk to the 11-hectare park in Brussels or St Michael and St Gudula Cathedral in just a few minutes.
In terms of transport, the new offices of the Chancelier complex offer quick access to the underground (lines 1 and 5), buses, trams, Villo shared bicycle parks and nearby Central Station, which allows you to get to the airport in just 16 minutes.
14,126

sq.m of new offices for rent in Brussels

650 sqm

of accessible outdoor space

465 sqm

of commercial units at the foot of the building