This report aims at providing a one-off overall and lifestyle "snapshot" of the prime streets in 34 key cities in Europe. Pedestrian traffic is one of the prime indicators to assess the strength of retail, albeit insufficient on its own to be a fully determinant driver. The fundamental measure of a successful retail area is the conversion of pedestrian flows into purchases. Indeed, in some areas of lesser footfall, such as for example luxury precincts, high store sales can be generated despite lower flows.
"BNP Paribas Real Estate is delighted to present the second edition of its Pan-European Footfall Analysis. The findings suggest that some level of normality has been restored to European downtown prime pitches: brick-and-mortar premises still have traction, city centres are proving their appeal, along with some new retail models and formats that are being successfully introduced to inner cities", declares Patrick Delcol, Head of Pan European Retail at BNP Paribas Real Estate.
FOOTFALL TOP 20 MASS-MARKET PRIME HIGH STREETS: CAPITAL CITIES
The UK, Spain, Italy and France in the Top 5
As in the first edition of our footfall report (2017), Oxford Street in London is still in pole position in Europe, followed by Regent Street, which has narrowed the gap with the frontrunner.
Madrid takes second place among European capitals thanks to Gran Vía with a daily footfall of 60,800 on the counting day, followed by Calle de Preciados at 6th place.
Milan is proving to be resilient and ranks high in Europe with Corso Vittorio Emanuele II.
Paris has three streets in the Top 20, with the Champs-Elysées still leading, while Rue de Rivoli also ranks highly (10th place, footfall of 36,000), followed by Boulevard Haussmann (13th place).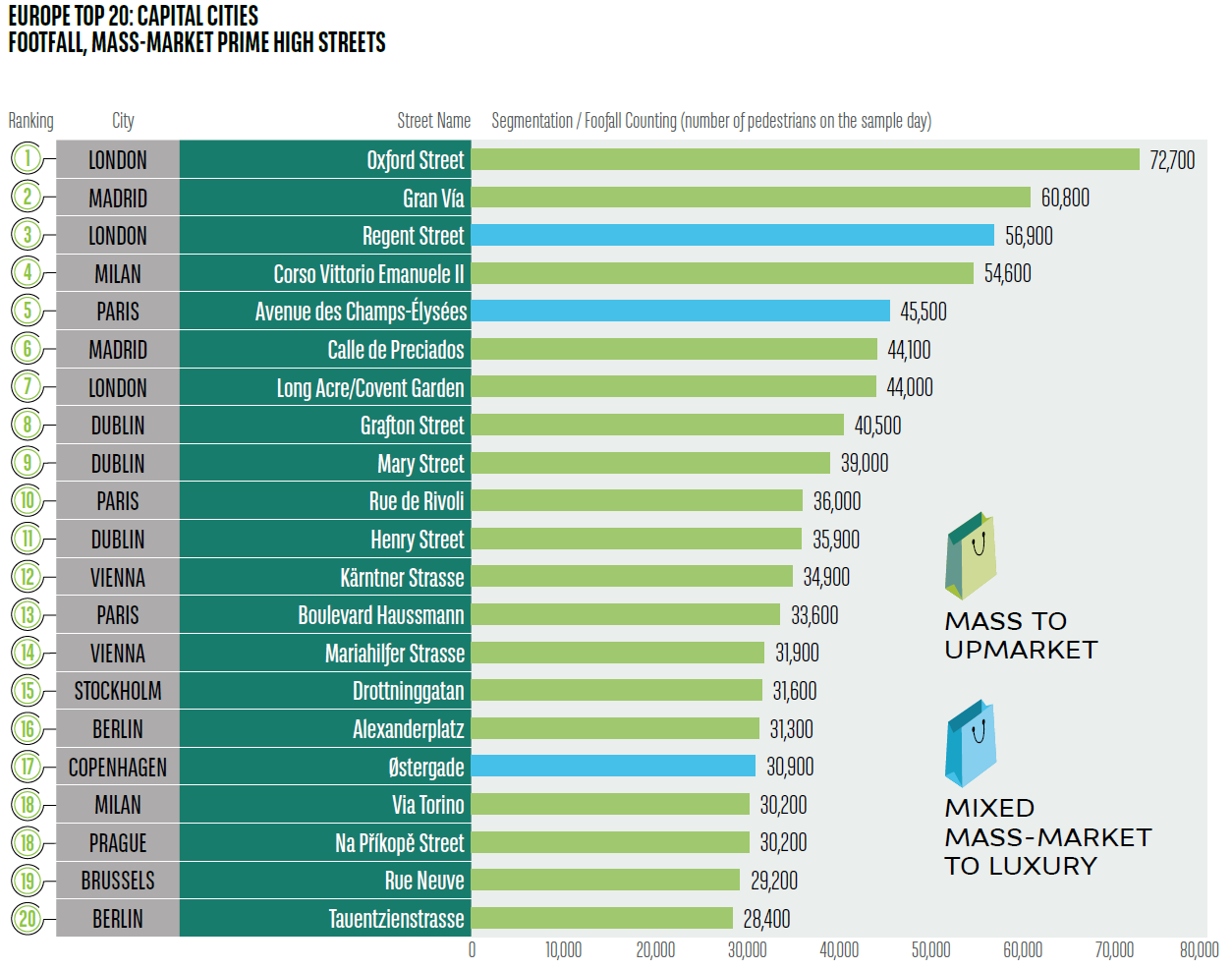 FOOTFALL TOP 40 MASS-MARKET PRIME HIGH STREETS: CAPITAL AND MAIN REGIONAL CITIES
As regards the Top 40 prime streets out of the 34 major European cities, German city centres score highly for their pedestrian flows, with Cologne, Munich and Frankfurt all highly ranked
In Belgium, the Meir in Antwerp is still in top place for footfall, followed by Rue Neuve in Brussels.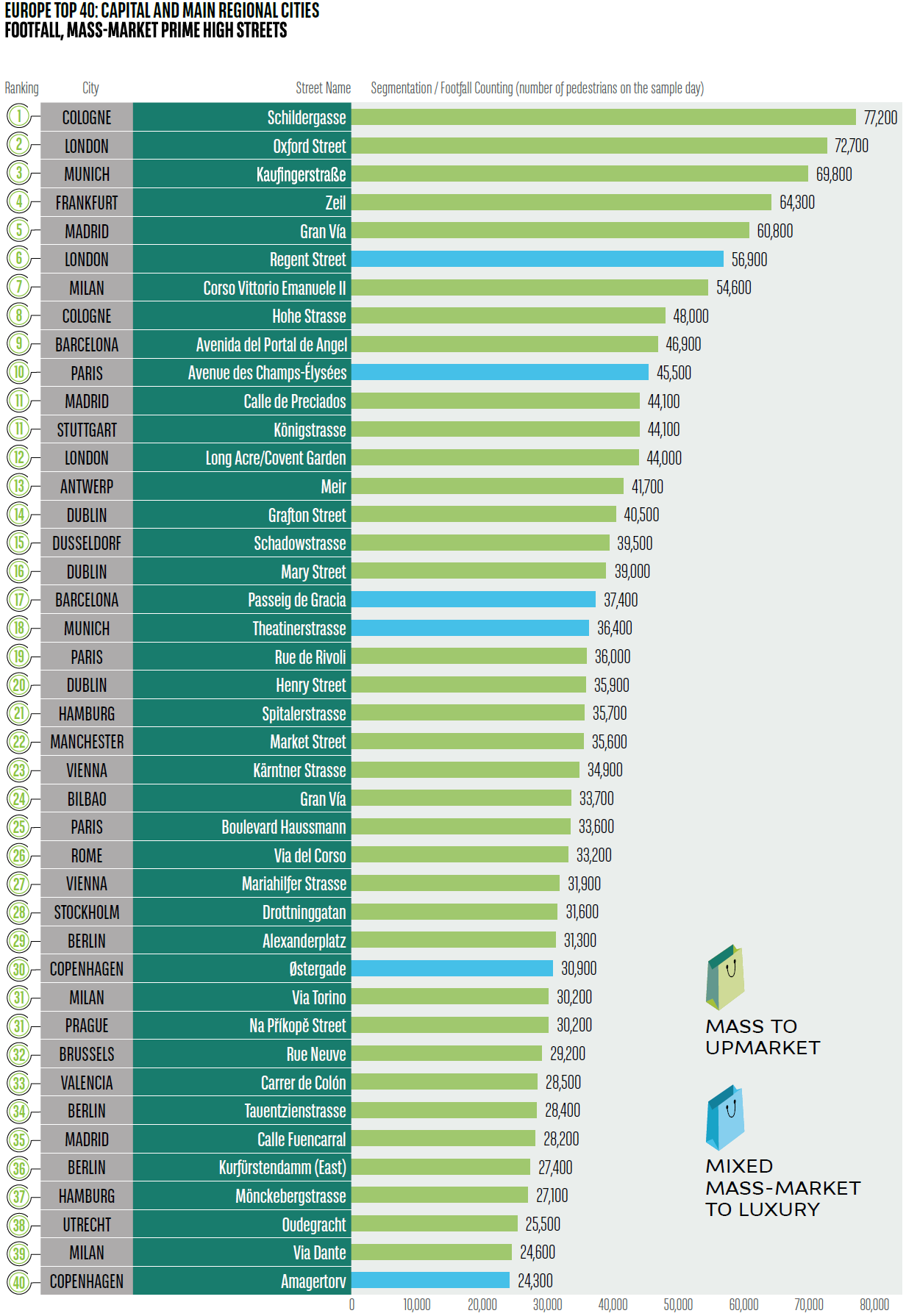 TRENDS AND PROSPECTIVES
In addition to the footfall analysis of "prime" shopping streets, the report has highlighted similar trends across Europe concerning the development of downtowns and cities' urban policy.
Widespread emergence of mixed-use projects in city centres
Mixed-use projects are becoming the norm throughout Europe. Local authorities support these urban developments as they strive to upgrade their inner cities and breathe life back into neglected districts. These schemes are popular as they attract different categories of people - shoppers, workers and inhabitants - which generate constant flows. Investors and developers are paying more and more attention to these assets, which enhance downtown plots, restore financial equilibriums and meet citizens' growing demand for greener spaces.
These redevelopments include offices, residential units, restaurants, stores, hotels as well as green and recreational spaces to form a complete ecosystem, attracting local and foreign shoppers and visitors who are happy to diversify their city centre experience.
Cities promoting urban mobility for easier downtown access
With current national policies focusing on climate and sustainability, and seeking to improve the living conditions of European city dwellers, numerous transport-upgrade projects are underway throughout Europe. In order to retain their appeal to a population that can now choose whether or not to frequent CBDs thanks to remote working, cities are proactively making their suburban transport routes shorter: from Milan to Stockholm, and from Lisbon to Barcelona, European cities, often historically organised around cars, are now turning to new mobility systems.
As large cities are often perceived to be noise and air polluters, these upgrades help to burnish their green credentials, in addition to providing efficient new multimodal facilities. In turn, new mobility patterns enlarge retail catchment areas by bringing potential fresh clienteles to downtown shops. Bicycle paths, already in vogue, are now at the heart of the city's transportation network.
Lastly, for some cities like Brussels and Vienna, these mobility policies include new car-free retail circuits, by dedicating even more streets to pedestrians and improving their shopping experience.
Importance of physical events & digital experience
European city centres must overcome numerous challenges to restore pedestrian traffic, including remote working and the slow recovery of international tourism. Many cities like London, Budapest, Milan or Paris are multiplying the number of events they hold, offering an unparalleled experience. Some are turning to world sporting competitions (such as the Olympics) to boost their infrastructures and promote their lifestyle, but they are all also offering more regular activities such as music festivals, seasonal events or special theme days. With these physical events, cities are taking advantage of the limits of digital experience – which cannot replace physical gatherings - and generating traffic by revitalising neighbourhoods.
Methodology
The analysis has been supported by BNPPRE Research teams, Retail Agencies and Alliance partners across 19 European countries, in partnership with LOCATUS for the supply of footfall and retail street data. Counting was conducted by LOCATUS in 130 prime streets of 34 main cities all over Europe during one Saturday per city chosen within 3 dates, the 4th, 11th and 18th of September 2021. Each city was divided into "Mass-Market to Upmarket" and "Luxury" categories and between 2 and 10 streets were selected, depending on scale and population of the city.
34 studied cities: Amsterdam · Antwerp · Athens · Barcelona · Berlin · Bilbao · Brussels · Budapest · Cologne  · Copenhagen · Dublin · Dusseldorf · Frankfurt · Geneva · Hamburg · Helsinki · Lisbon · London · Madrid · Manchester · Milan · Munich · Oslo · Paris · Prague · Rome · Rotterdam · Stockholm · Stuttgart · Utrecht · Valencia · Vienna · Warsaw · Zurich