According to the UN, 54% of the world's population now lives in cities. By 2050, this number will rise to 66%. As a result of society becoming more urbanised, urban models need a rethink. Gone are the days where hyper-specialised or single-function buildings rule the roost. Instead, we now need to dream up mutable buildings, which can transform themselves, in sync with the constantly changing global environment, in order to provide a solution for the world's major social, environmental and economic needs. Therefore, when developing sustainable cities today, planners must anticipate changes in usage by building in one of the main pillars of the circular economy: reversibility.
In this new issue of BuzzWords (available to download below), BNP Paribas Real Estate throws the spotlight on these new conversion, reversibility and re-usage models that provide a foundation for the process of developing the sustainable and resilient cities of the future.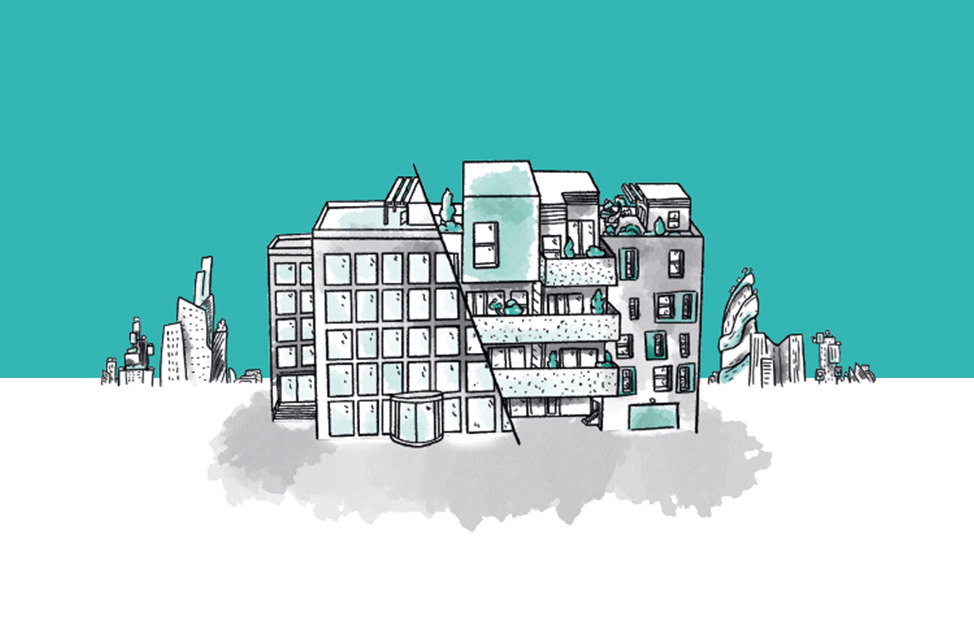 One building, many lives
As far back as the 1950s, young American artists were taking over abandoned former industrial buildings right in the heart of city centres and investing in them to create their living spaces and creative studios there. Today, these types of changes in usage are part of the urban landscape throughout Europe: we are restructuring, we are converting... and now, in particular, we are looking ahead by building in the concept of reversibility when designing buildings.
Conversion? Renovation? Reversibility? In this new issue (available to download now), BNP Paribas Real Estate gives you a detailed breakdown of the vocabulary connected with the different models for building cities on cities.
Expert insights to help you understand how real estate is transforming
Throughout Europe, there are innovative programmes building "mutable cities" :
Milan
A historic building complex that has been transformed into high-end housing is starting the next chapter of its life.
Boulogne-Billancourt
The architect Dominique Perrault is reconfiguring an iconic industrial building into multifunctional offices.
Neuilly-sur-Seine
The comprehensive renovation of three 1970s office buildings sets an incredible benchmark for the circular economy and re-usage.
In this new edition of BuzzWords, BNP Paribas Real Estate calls on experts to explain how urban spaces are transforming.
Download the new issue of BuzzWords now to get your head around the real estate models of tomorrow, which need to be reversible, flexible and sustainable.