Discover our new publication entitled "Smart Brussels" dedicated to the new sustainable growth dynamics that make our beautiful capital a great place to live, do business and invest.
Indeed, as we all know, by 2050 the city will be the living environment of two-thirds of humanity. Faced with this growing urbanisation and the resulting major challenges in meeting the needs of urban citizens, the urban model is evolving towards a smart city, i.e. sustainable, inclusive, resilient and multifunctional.
Always at the forefront of trends, the Capital of Europe is taking advantage of these fantastic opportunities to develop multiple urban innovation projects and build the economy of tomorrow, together.
Over the pages and through figures, expert insights and examples of bold real estate projects, Smart Brussels offers a comprehensive overview of these new levers for competitiveness and growth that combine sustainable development, quality of life and the balanced management of natural resources
Smart Metropolis Brussels
GET THE STUDY
The Smart Metropoles collection invites you to view European metropolitan centres that are part of our dynamic future through the prism of the Smart City. Economy, mobility, lifestyles, population and the environment are considered, as well as future major urban projects that will shape the cities of tomorrow.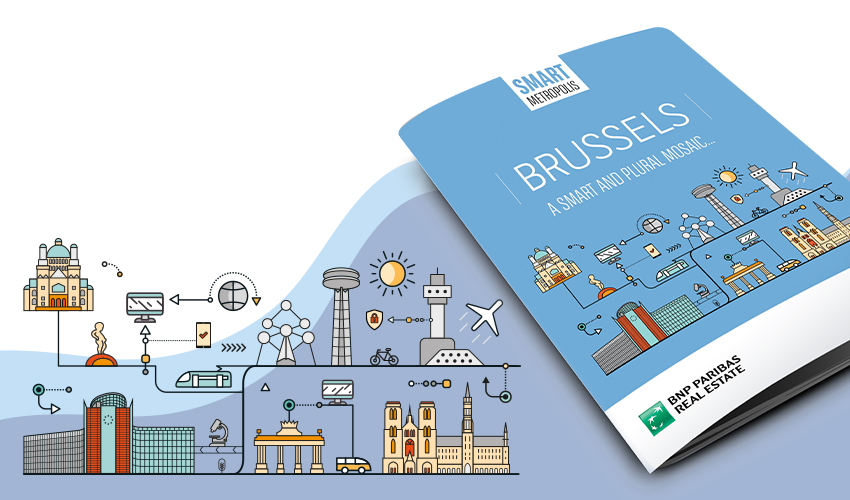 Click here to receive the study

-
BNP Paribas Real Estate Belgium SA/NV, a public limited company, 235 Avenue Louise/Louizalaan, 1050 Brussels uses cookies and other methods to process information about you (such as identification data, including your contact details) for the purposes of processing the requests that you send to us via the website and, in some cases, for marketing purposes. For further information about how BNP Paribas Real Estate Belgium SA/NV processes your personal data in this context and about your rights (including your rights of access, correction, objection to processing for marketing purposes and your right to give instructions on how your personal data will be used after your death as well as, in certain circumstances, a right to erasure, to restrict processing, to data portability and a right to object to other forms of processing) and BNP Paribas Real Estate Belgium SA/NV's obligations in this area, please take a look at our Data Protection Notice available at https://data-privacy.realestate.bnpparibas/