Well-being is on the up and becoming the norm. Following the "experimental laboratories" of young innovative companies, large companies are turning more towards happiness, specifically by appointing "Chief Happiness Officers", whose mission is to create and nurture conditions that benefit the well-being of the company. Beyond managing space and working hours or organising internal events, they break down barriers to improve the functioning of the company and help create a climate of trust between employees and managers. With the "Well-being in the Workplace" TrendBook, we use interviews and overlapping perspectives to offer you a new take on a subject that has been given a central role.
Happy at work: What are we waiting for?
Why has employee well-being become a pillar of corporate strategies?
What role does real estate play in this quest for happiness?
TrendBook Well-being at work
GET THE STUDY
Each TrendBook looks at the actual changes affecting the real estate market in one way or another. International experts in the sector are given the chance to talk through analyses, testimonials, case studies and key figures.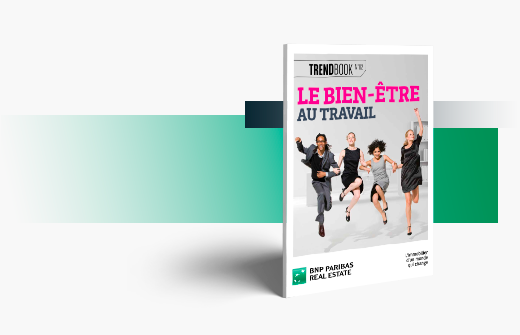 Click here to receive the study

-
BNP Paribas Real Estate Belgium SA/NV, a public limited company, 235 Avenue Louise/Louizalaan, 1050 Brussels uses cookies and other methods to process information about you (such as identification data, including your contact details) for the purposes of processing the requests that you send to us via the website and, in some cases, for marketing purposes. For further information about how BNP Paribas Real Estate Belgium SA/NV processes your personal data in this context and about your rights (including your rights of access, correction, objection to processing for marketing purposes and your right to give instructions on how your personal data will be used after your death as well as, in certain circumstances, a right to erasure, to restrict processing, to data portability and a right to object to other forms of processing) and BNP Paribas Real Estate Belgium SA/NV's obligations in this area, please take a look at our Data Protection Notice available at https://data-privacy.realestate.bnpparibas/